Professor Akiyama's research focuses on the development of new synthetic methods.
1. Development of Chiral Bronsted Acid Catalysis
Development of efficient chiral catalyst is highly important for the preparation of chiral compounds. We reported in 2004 that chiral phosphoric acid, derived from (R)-BINOL, catalyzed Mannich-type reaction as a chiral Bronsted acid catalyst.  Since that report, chiral phosphoric acid has emerged as efficient chiral catalyst and huge number of chiral phosphoric acid catalyzed reactions have been reported.  The Akiyama research group focuses on extending the synthetic utility of chiral phosphoric acid and also development of novel chiral Bronsted acid catalyst.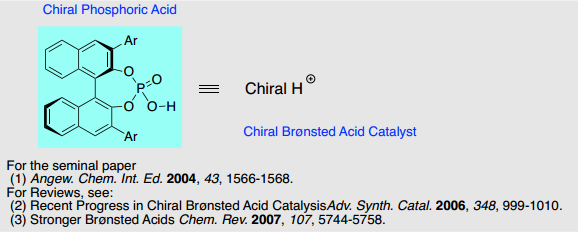 1-1 Nucleophilic Addition and Cycloaddition Reaction with Imines.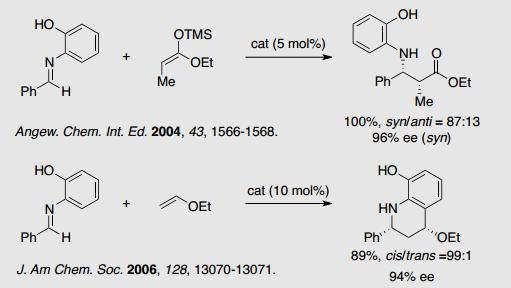 1-2 Transfer Hydrogenation Reaction by Use of Novel Hydrogen Donor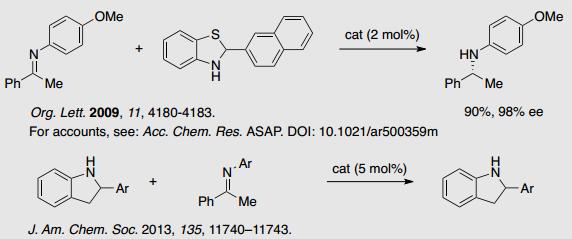 1-3 Asymmetric Synthesis of Axially Chiral Compounds

1-4 Asymmetric Synthesis of Chiral Organofluorine Compounds

2. Internal Redox Reactions: C-H Functionalization
Direct transformation of C-H bond to C-C and/or C-X bond has become an important topic of synthetic interest.  We focuses on the internal redox process, which involve [1,5] hydride shift from the alpha position of hetero atom and subsequent cyclization , leading to heterocycles.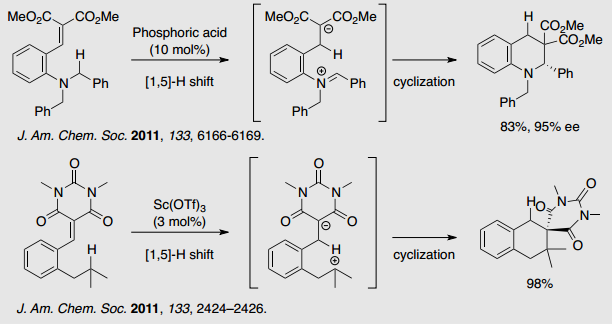 3. Activation of C-F Bonds
Carbon-fluorine bond is the strongest bond attached to carbon. We found that low vaent Nb species, generated from NbCl5 and LiAlH4 effectively activated both C-H and C-F bond, and C-C bond formation occurred to give fluorene derivatives in good yields.

4. Enantioselective Cycloaddition Reaction Mediated by Chiral Cu(I) Catalyst
[3+2] Cycloaddition reaction of allenylsilane with aldimine proceeded smoothly by means of Cu(I) species to afford proline derivative with good enantioselectivity.

5. Synthesis of Heterocycles by means of Cr-Carbene Complexes
Cr-carbene complex underwent [3+2] cycloaddition with a,b-unsaturated aldehyde to give pyrrole derivatives with good yields.